0 Comments »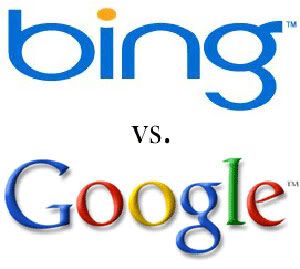 The software giant Microsoft has fired a fresh salvo in its war with
search giant Google. The company's revamped search engine called Bing
aims to do to Google Search, what Google's Chrome aimed to do to
Microsoft's Internet Explorer: weaken the dominance.
At stake for both the technology giants is the growing web advertising
pie. Incidentally, this is not Microsoft's first attempt to thwart
Google's Internet dominance. In the past too, the company has made many
not-so-successful attempts to shake Google's Internet hegemony.
However, Bing shows promise feels analysts. The search engine traffic
figures for the first few weeks too are positive. Here we present to
you how the two stand vis-a-vis each other in features, appearance and
many other counts.
Bing
: Bing brings a colourful user interface for users. It has a
side panel bar that displays search with related and history links
relevant to users' search terms. The serach engine features a different
background image everyday. The search engine comes with a set of
related services, including Bing Travel, Cashback and Maps for
Enterprise. Bing focuses on four key vertical areas: making a purchase
decision (Shopping), planning a trip (Travel), researching a health
condition (Health) or finding a local business (Local).
Some of the new features in Bing vis-a-vis Google include getting
directions to locations with only one mouse click, and the ability to
hover over a search result to see more information, without having to
open a new link. The 'decision engine' promises to make things like
buying a digital camera, booking a flight or searching for a restaurant
easier by serving up results based on similar previous searches. Bing
also has some other little-known but useful features of its old search
engine. These include, smart motion preview, photos on the home page,
Bing 411, Bing Mobile and Local Business Centre
Google
: Google for long sports a cleaner and simpler looks. The
search engine displays stark white page with a search box. The upper
left corner of Google home page links to other Google services
including email, Maps, Orkut and images.
Google recently introduced new features in its search engines to
attract users, making Microsoft's task even harder. The Explore Google
Search page displays 16 different Google search features including
Movie Times, weather, dictionary, calculator, stock quotes to name a
few.

SOURCE