0 Comments »
The iPhone Dev team released (coming Soon)their much awaited software solution to unlock iPhone 3G OS 3.0 with UltraSn0w a replacement of YellowSn0w. However to install their UltraSn0w application to unlock iPhone 3G, you need to first jailbreak iPhone 3G. So here is a step-by-step guide to jailbreak iPhone 3G using RedSn0w for Windows and Mac users. For unlocking your iPhone 3G first jailbreak with following guide after a successful jailbreak follow our guide on Unlocking iPhone 3G with UltraSn0w. For more information on UltraSn0w check here. Before getting started please ensure that you have upgraded iTunes to iTunes 8.2 Final version.

Step One : Create a folder on desktop and name it whatever you wants in the following article we named it TRICKS. Now put all your downloaded files in the TRICKS folder. Now connect your iPhone to the computer and launch RedSn0w from TRICKS folder. In the Window click on the browse button to navigate to the TRICKS folder on your desktop and select the 3.0 firmwar ipsw.
Step Two : Click the Open button to continue
Step Three : In next Window check the Install Cydia option to Jailbreak your iPhone 3G.
Step Four : Now turn off your iPhone but make sure it is still plugged in to USB port. If you satisfies this term then click next to proceed the next step is to put your iPhone in DFU mode.
Step Five : To put your iPhone in to DFU mode follow the onscreen instructions as follows Hold the Power button for 3 seconds, Hold the Home and Power buttons for 10 seconds, then release the Power button and continuing holding the Home button until your iPhone is in DFU mode.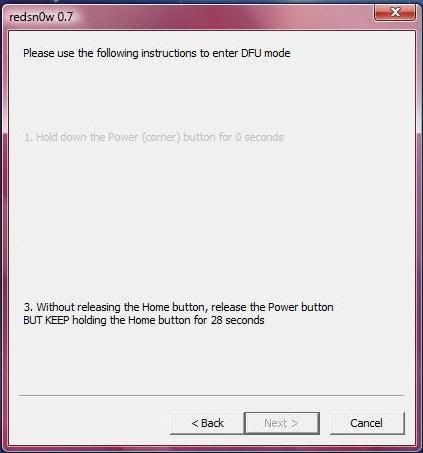 Step Six : If all goes well means you put your iPhone in DFU mode successfully then the following screen will appear otherwise you will be prompted to do from Step Five
Step Seven :
That's it after 5 to 8 minute of process you will get your hands on a Jailbreaked and unlocked iPhone